In 1980, Mike was playing with a band that included drummer Steve Fillicelli. As often happens, musicians would come and go for various reasons. Eventually, Steve left the band and a new drummer was recruited. Some months later, Mike also left, but he wasn't idle for very long.
He was contacted by Steve, and asked if he was interested in joining the band that Steve was currently playing in, as their bassist was leaving shortly to move north and go back to school. Mike agreed, and this led to him becoming a member of the Coquina Rock Band.
The CRB had been started a year before by Mark Watson and his sister Jill, both of whom were excellent vocalists, with Mark also playing keyboards and a bit of guitar, while Jill contributed the odd guitar or percussion part. They too, had experienced the musical-chair situation with other members.
Their current bass player was Perry Petrone, aka 'Sonny LaRock'. Perry was also left-handed, so he and Mike had a rapport almost immediately. The two of them had several sessions at Perry's house in which they went over the bass parts to nearly every song the band played. This was important, since a large part of the band's repertoire was original music from the Watson siblings (with contributions from a writing partner of Mark's).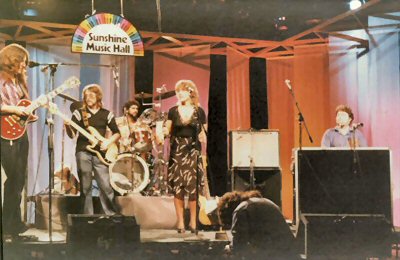 With Mike up to speed, Perry left the band and the CRB was able to carry on without a hitch. During the time Mike was a member, they made a TV appearance on Sunshine Music Hall, a half-hour broadcast on station WMFE in Orlando, Fl.
After several more personnel changes, including a new drummer, the band went into the studio (for the second time; the first occasion was with Perry some months before Mike joined). This resulted in two original tracks, Expendable and Metal On Metal, recorded at a professional eight-track studio in Melbourne, Florida. Except for some live recordings made at a surf festival some months later, these were the only songs captured on tape while Mike was with the band.
Eventually, Mike also left the group, which carried on a while longer then disbanded completely. Mark and Jill went on to work as a country duo for a short time, which ended when Jill moved to Chicago. Mark and Perry both passed away in 2004. Mike and Jill still keep in touch.
For more information, check out the Coquina Rock Band website.